This chart was sent to me by Gary Arnold, Patriot Activist since the 1960's.
The chart below is a rending of the most important groups I, Charlotte, have had access to over the years and is VITAL for anyone's understanding of the satanic/communist operation (which comes under many labels) to destroy Christianity and freedom around the world. [click on chart for larger view]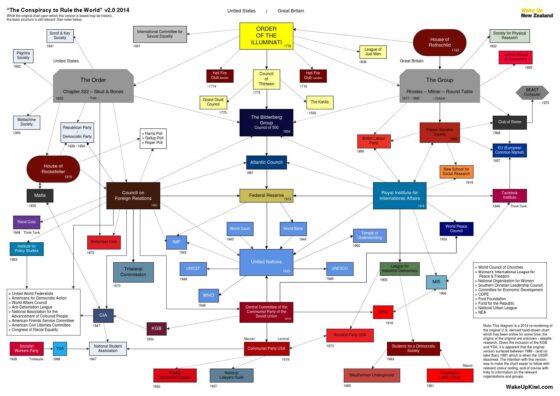 A HISTORY LESSON (President Reagan and Gary Arnold argue…)
The New York Times, October 7, 1982
"As a crowd listened in astonishment, President Reagan was interrupted in mid-speech by a Republican heckler (Gary Arnold, ed.) at the White House today. The President responded with his most fiery oratory of the campaign and a blunt order to the heckler: "Shut up!"
Mr. Reagan's reaction shifted from surprise to anger to aggressiveness as Gary Arnold, the Republican candidate for Congress from California's 16th District, stood up at a rally for Republican candidates in the East Room, loudly cut off the President in mid-sentence and accused him of abandoning conservative principles.
"We have a Tylenol-taxing situation here," Mr. Arnold, a 41-year-old marketing analyst, shouted as the President glared over at him. "And we have Reagan-mortis setting into the nation's body politic!"
Dialogue Approach Sought
At first, as the 70-odd Republican politicians gaped in embarrassment, Mr. Reagan sought the approach of dialogue in dealing with the agitated candidate, who had to snatch his coattails from the reach of colleagues trying to silence him.
But Mr. Arnold, proclaiming fury that he had not received campaign funds from the national party, kept interrupting. "You have a small elite rich!" he shouted.
"Just a minute," Mr. Reagan responded twice, rubbing his nose as his anger rose at Mr. Arnold's tirade. Finally, he pointed sternly to the man with his left hand and said, "Shut up!"
Having thus regained the floor, the President quickly counterattacked with a defense of his economic policy that rallied the other Republicans to their feet in a standing ovation.